South Plaza and Santa Fe Island
National Geographic Islander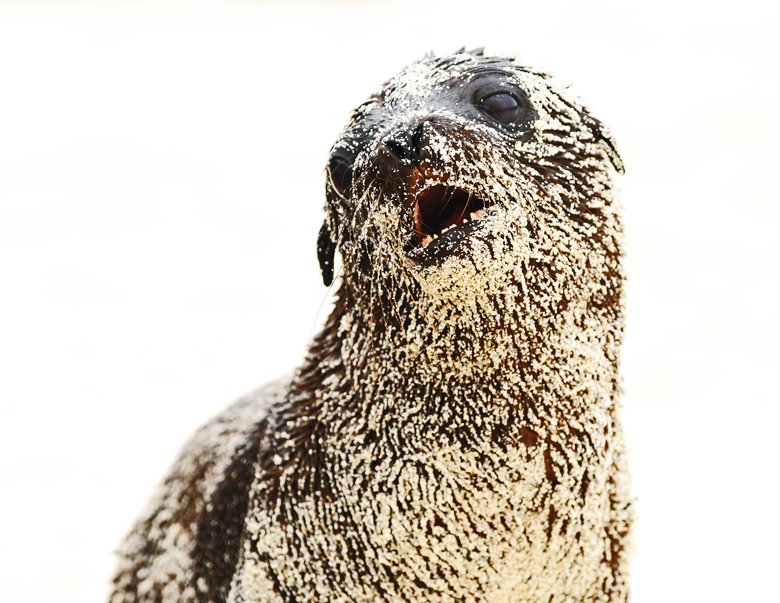 Galapagos sea lion pup.


We woke up to the beautiful view of two small islands in front of our mother ship. After breakfast, we had a dry landing on a small flat island known as South Plaza. The place looked gorgeous from the beginning: red succulent plants, a forest of prickly pear cacti, and when you looked carefully, several individuals of land iguanas were spotted under the shade of the cacti, either resting or feasting on pieces of the succulent cactus.

As soon as we started our hike, we spotted a very young sea lion pup that had been born a few minutes before we landed on the visitor site. The placenta was till next to him, as well as his mother protecting him. Right next to the sea lion we encountered a rare specimen for Galapagos: this was the case of a hybrid iguana. It was an individual iguana resulting from the crossbreeding from the male marine and female land iguana. They don't usually live long and there aren't necessarily many of them, so for us was great to be able to spot one right on the trail.

After an extraordinary hike on the uplifted island of Plaza, we returned back aboard and went swimming right off our mother ship. A talk about the human history of the islands was presented afterwards.

After lunch, we navigated towards Santa Fe island, where we went snorkeling with green Pacific sea turtles and small schools of eagle rays. We even spotted a few white-tipped reef sharks resting in the bottom of the ocean. Snorkeling here was definitely one of the highlights of our day. Some of us chose to go kayaking along the coast of Santa Fe instead of snorkeling. After snorkeling and kayaking, we went on a hike on the inner and coastal land in search of the Santa Fe land iguana, species which are found only on this island, and nowhere else in the world. We found several iguanas and had an incredible day.

One of our guides:

Jonathan Aguas·Naturalist/Certified Photo Instructor
Jonathan was born into one of only a handful of families that reaches back five generations in Galápagos, in the town of Puerto Baquerizo Moreno, on San Cristobal Island. He first left the islands when he won a highly-coveted scholarship to finish his studies in the U.S. This was the start of his life-long passion for science and languages.